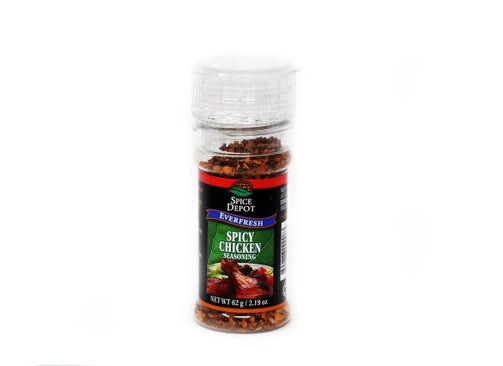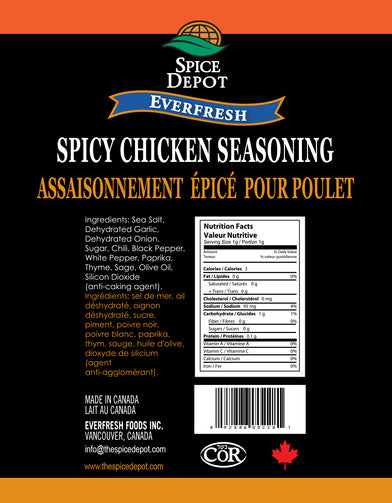 The Spice Depot™ Spicy Chicken Seasoning (62gr./2.19oz.)
The Spice Depot™ Spicy Chicken Seasoning (62gr./2.19oz.)
Regular price

Sale price

$6.99
At the heart of Spice Depot's Spicy Chicken Seasoning beats traditional poultry flavors like thyme and sage, but we've kicked them up a notch with exotic paprika, chili, white pepper, and olive oil, and into more recipes than just roast chicken and turkey.
Use Spicy Chicken Seasoning as a cheeky alternative to poultry seasoning, twist over baked chicken, in dried chicken coating recipes, pasta and in stir-fries, in soup and stews - and of course over eggs. Spicy Chicken scrambled eggs with JoJo Potato hash-browns turn good mornings into great starts.
For a quick one-pan meal to start a busy week, grind Spice Depot Spicy Chicken over cubed or sliced fresh (or frozen) free-range chicken or turkey. Saute in a few tablespoons of olive oil until the meat begins to brown slightly. De-glaze the pan with prepared chicken or vegetable broth or left-over white wine, add a small bag of frozen baby vegetables, and cover for just a few minutes to crisp-cook vegetables and cook chicken or turkey through. Serve over fluffy white or brown rice.
100% recyclable plastic grinder top and bottle, safety sealed for your protection.
Couldn't load pickup availability